Our Senior Living Community in San Diego — Honored in 2022
We love what we do at Casa de las Campanas. As a not-for-profit Type A Life Plan Community, our mission is to create a vibrant senior living community where residents have the amenities and services to pursue a lifestyle they enjoy and the peace of mind of knowing their needs will be met if their health changes. So it is a tremendous honor to have received numerous awards in 2022, affirming that residents are truly benefiting from the maintenance-free lifestyle, abundant opportunities and continuum of care here at Casa.
It is our privilege to share with you Casa de las Campanas' 2022 awards, which include:
San Diego's Best Union-Tribune Readers Poll 2022
For 26 years, readers of The San Diego Union-Tribune have been nominating their favorite businesses in San Diego. For the third year in a row, Casa de las Campanas is honored to be named among the best, receiving this year's award for San Diego's Best Assisted Living Community and Readers' Favorite Retirement/Independent Living Community.
Pomerado News' Best of North Inland 2022 Readers Poll
The North Inland Readers Poll features readers' top picks among local businesses, restaurants, schools, spas and medical providers. Casa de las Campanas is proud to have been named the best senior living community for the ninth year in a row.
J.D. Power Award for Customer Satisfaction among Independent Senior Living Providers
For the fourth year in a row, our management company, Life Care Services, has been recognized as #1 in Customer Satisfaction among Independent Living Providers in the J.D. Power U.S. Senior Living Satisfaction Survey. This study is based on the responses of residents and their families measuring their satisfaction with six aspects of the senior living experience: the community buildings and grounds; staff; dining; the price paid for services received; resident activities; and apartments/residences. Life Care Services is pleased to have ranked highest in independent living resident overall satisfaction, with a score of 841.
U.S. News & World Report 2022-23 Best Nursing Homes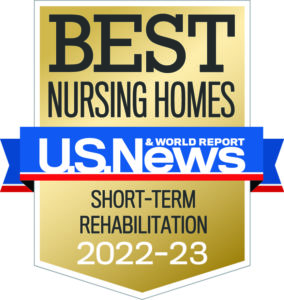 U.S. News evaluated over 15,000 nursing homes around the country, choosing the best from those that were high performing in short-term rehabilitation, long-term care, or both. Casa de las Campanas is among the best in the country, providing top-quality care for people after hospitalization for surgery, illness, injury or other conditions.
2022 Reader's Choice Best Retirement Community
In addition to covering the important events and issues in the local communities, the Poway News Chieftain and Rancho Bernardo & 4S Ranch News Journal invite readers to vote for the top local businesses in their 2022 Reader's Choice "Best of" Awards. Readers awarded Casa de las Campanas first place in the Best Retirement Community category.
Thank You
We are thrilled to be named among the stellar local businesses that make this such a dynamic area to live and work in. And we're honored to be recognized in national studies for the quality of service we provide Casa de las Campanas residents. It is with heartfelt gratitude to residents, their families and the local community that we promise to continue to provide top-notch care and the amenities and services that make life at Casa so rewarding.
If you'd like to learn more about the award-winning lifestyle at Casa de las Campanas, contact us to schedule your visit.